More info
BNF-RTF Micro Helicopter for VBar Control radio (bind and fly, ready to fly)
Exceptional flight performance, comparable to larger 600-700 class helis
Equally suitable for sports flying, aerobatics and 3D flying
Wide range of head speeds, from 2,500-7000+ 1/min possible
Lipo 3S-650 mAh battery for flight times from 4-9 min. (included)
Dual Motor System, direct drive for main and tail rotor
Dual ESC with metal case
VBar NEO mini 6.4 Flybarless System with 'Anti Gravity'
VBar NEO already set up, no setup on your own required, just bind and fly
VBar NEO Governor with RPM telemetry
Micro digital servos with metal gears for the swashplate
Carbon frame and landing gear
Aluminum rotor head and swashplate
VTX main rotor blades
Glass Fiber Airbrush canopy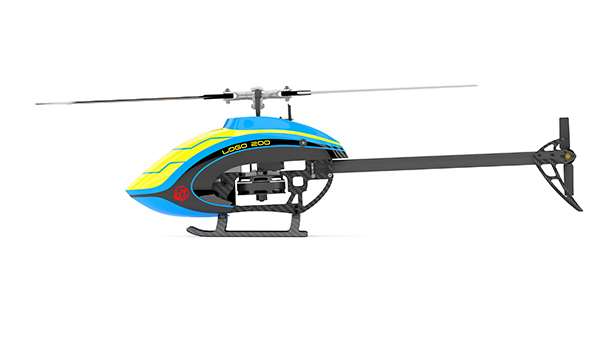 This LOGO 200 does not support other radio systems than VBar Control, without further adjustments.
At your own discretion, you can use VBar Control to select a digital third party protocol as an input, and make the necessary channel adjustments.
You then obviously also need a suitable separate third party receiver.
Adjustments to the flight parameters can only be made with VBar Control. VBar NEO mini can not be set up via computer software.
If set up properly, you can then fly the model with VBar's motor switch logic, three parameter banks, and use Rescue and/or Beginner mode (if installed).